Cover Kids Search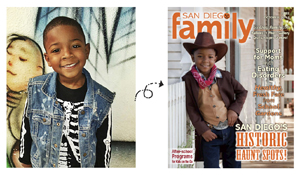 San Diego Family Magazine's Cover Kids Search!

Each Fall, San Diego Family Magazine goes on a county-wide search for bubbly, photogenic kids (ages 2-11) to grace the cover of a future issue of San Diego Family Magazine or Out & About.

The contest has four age categories: 2-4 years, 5-7 years, 8-11 years and Multiples/Parent-Child. Twenty five finalists from each category will be chosen and have their photos displayed on our website. All 100 finalists will be invited to attend the Cover Kids Search event where they will meet a panel of judges. Two winners from each age category and one Multiples/Parent-Child winner will be selected to be on a future cover of San Diego Family Magazine or Out & About.


The registration process is now closed! Submissions for 2018 will be open in the fall.
Once the registration process is open in the fall, you will be able to click Cover Kids Search to submit one entry form, one recent, good quality photo and $25 for each age category entry and $35 for each multiples category entry. A portion of the proceeds from the contest will be donated to Birch Aquarium at Scripps and the Special Needs Resource Foundation of San Diego. Photos need not be professional and will not be returned. The contest is open to all families living in San Diego County.
Find more information in our Cover Kids FAQs.